West Keystone Area
The West Keystone area, also known as the Forest Neighborhood, offers a quiet, relaxing retreat for visitors, with a forested setting and two championship golf courses nearby, it will be easy to enjoy the stunning beauty that surrounds you. You'll find the Keystone Nordic Center, golf courses and the highly acclaimed dining experience of Keystone Ranch in West Keystone. West Keystone is just a quick free shuttle ride over to the Mountain Base area as well as the River Run Village for easy access to skiing, snowboarding, and sledding in the winter, and hiking, biking and festivals during the summer months.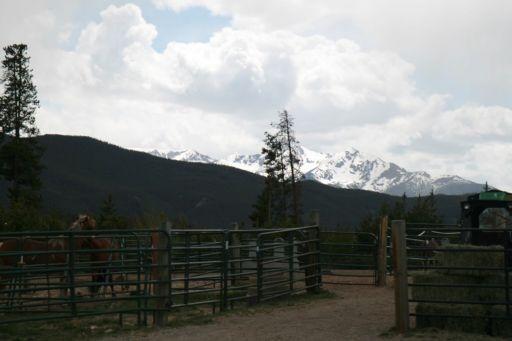 West Keystone offers quite a bit of history of Old Keystone, where just past the Keystone stables, there are now magical and scenic sleigh and wagon rides. This area also was home to a saw mill and the current stables building was once the rail depot of Old Keystone.
Dining in West Keystone

One of Keystone's highly-acclaimed restaurants, the Keystone Ranch, is also located in West Keystone. It was originally built as a cattle ranch and lettuce farm, working up until 1977. You'll be able to experience the original ranch house if you choose to enjoy some desserts and after dinner-liqueurs. The Keystone Ranch restaurant has had a AAA Four Diamond Award™ every year since 1990, the Wine Spectator Award of Excellence for every year since 1996 as well. Your experience at Keystone Ranch will be a six course dinner celebration that is truly unforgettable and will be a memory of your time in Keystone for years to come.
Lodging in West Keystone
West Keystone offers many different vacation rental properties to choose from, including those in Antlers Gulch, Flying Dutchman, Lodgepole, Pines, Soda Springs, and the Wild Irishman condominiums. There is no doubt you'll be very pleased with your stay in the West Keystone area and enjoy a relaxing vacation in true Keystone style.
The West Keystone area has many condo complexes and homes to choose from, including:

Keystone Bristlecone Home
Elk Run Villas
Flying Dutchman
Keystone Gulch Townhomes
Homestead
Lazy K Home
Lodgepole
Northstar
Pines
Starfire
Wild Irishman
Contact Us