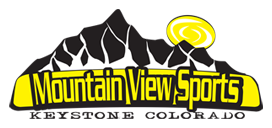 Our favorite ski and snowboard rental shop is Mountain View Sports in Keystone!  They have great gear and you can not beat their prices, especially after the SummitCove guest discount. Even better, our kids get FREE rentals with our adult rentals with their kids ski free program!  Mountain View Sports is locally owned and we are proud that we have been supporting them for years.
They are located just across Highway 6 from the SummitCove Lodging check-in guest, in the Mountain View Plaza, next door to Dos Locos. It is so convenient! We also look forward to seeing the ski techs at Mountain View Sports. They have great customer service and are always helpful. They offer us advice on where the best spots to ski on the mountain are.
In the summer we rent bikes from them too and also receive discounts, which makes it a great deal to ride a bike around Keystone!  We also take part in their 'Ride the Pass' downhill bike tours at least once a summer.  They shuttle you and your bikes up to the top of Vail Pass for an incredible all-downhill bike ride that everyone can do, our young kids and even their grandparents all come along, as long as you can ride a bike, you can do it! The scenery is nothing short of amazing. Mountain View Sports allows you to choose how far you want to go and will basically pick you up wherever you'd like. Some people stop in Frisco, while others want to pedal on to Dillon or even all the way back to Frisco, but beware  once you pass Frisco you will have to start going up hills! The last time we went on a Ride the Pass trip, we stopped at the Island Grill at the Frisco Marina and had a nice lunch and Mountain View Sports picked us up afterwards.  It is a great activity to plan that everyone in the family can enjoy.  
We are repeat customers of Mountain View Sports and we would not go anywhere else for our rentals!