Coming to Keystone in the summer is a family tradition.  We bring 4 generations of family from grandparents to little kids.  We stay in one of SummitCove Lodging's large, beautiful homes, this summer it was the Keystone Grand Lodge #633. We always plan group activities but with varied age groups and interests, we have found it challenging to find an activity that everyone wants to do and can do.  However, this summer we found the perfect outing for everyone in our family! Big Ed's Fishing Ventures! We have a bunch of fisher people in the family and a few that have never fished at all. The wonderful part about Big Ed's is they had a boat big enough for all of us and for the family that did not want to fish it was only $40.00 for them to come on the boat with us.  SummitCove also had a coupon so the kids could fish for free with a paying adult in their summer discount book. It was something everyone in our group could enjoy and afford!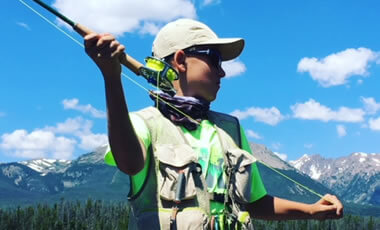 We had a beautiful day on Lake Dillon.  The water was calm and the views were amazing!  Our fishing guide was fantastic and knew exactly where to take us to catch the most fish.  We caught Rainbow and Brown Trout. The kids were delighted with how many fish they caught and the more serious fisher people could not believe the size of the trout.  Our non fishing family members said, they would not have missed this day on the Lake and watching everyone catch fish was a highlight. At the end of our fishing trip our guide felt like family and he gave us so much information about the area that we never knew!  
In the winter Big Ed's even offers ice fishing trips!  Honestly, I have had zero interest in ever doing this but after spending a day on the lake with Big Ed's Fishing Ventures there is no way we are not coming back to try ice fishing with them in the winter.  It will be the day we rest our ski legs, but still enjoy the Colorado sunshine!
Big Ed's made our summer trip to Keystone memorable.  The photos we took, the fish we caught and the memories we made are some of our favorites from this trip.  We look forward to coming back and creating more family memories with Big Ed's.