Posted on 8/11/2012 by Alyssa Hubbard
Tour the Montezuma Schoolhouse This Sunday at Open House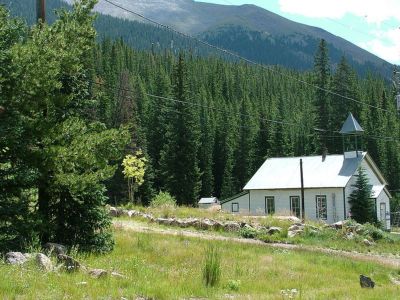 [caption id="attachment_11922" align="aligncenter" width="674" caption="The View from the Deck at Montezuma Hideaway"]Montezuma, CO Schoolhouse
Get a Glimpse Into the Old Colorado Mining Days!
The town of Montezuma is just a short 5 minute drive from Keystone up Montezuma Road and it sits at about 10,000 feet altitude.  The old town and its neighboring town, Saints John were once known as the most productive silver mining area in the entire country.  The town was originally founded in 1865 and incorporated in 1881.  At one time, the town of Montezuma had a population of about 2,000- including 2 hotels, 5 saloons, a number of restaurants, a Catholic Church and at one point its own newspaper!  Since then, several fires have passed through the area and taken out many of the original buildings, but the Schoolhouse still stands in its original site and features a pot-bellied stove which heated the schoolhouse.  It remained in operation until 1958, when school buses started running children to Dillon for class.  The town is now much smaller and is a great place for visitors looking to explore a unique area.  Visit this small piece of history this Sunday afternoon, August 12, during the annual open house from 1-4 pm and take a glimpse into the old mining days!
Love the small mountain town of Montezuma? SummitCove.com Vacation Lodging rents a private home in the town of Montezuma, just yards away from the schoolhouse,  Montezuma Hideaway #5345.  This 3 bedroom, 2 bath home features spectacular views of the surrounding mountains, along with a private hot tub on the upper deck perfect for star watching on a cool autumn night! The home backs up to many Montezuma hiking trails, along with dirt roads for ATVing and interesting features nearby for exploring and hiking, such as Peru Creek, the ghost town of Saints John, and Chihuahua Gulch.  The serene outdoor setting blends perfectly with the mountain decor of the home.  Unique touches like the clawfoot bath tub, old saloon door, Adirondack ski chairs on the deck and a rustic wood stove in the living room make this home the perfect mountain getaway! It's far enough from town to feel like you've escaped from it all, but close enough to make a quick run to the grocery store or out to dinner!  It even features old photographs throughout the home for an interesting look into the past.  You won't want to leave once you arrive at this mountain home!