Areas & Villages of Keystone
The small resort town of Keystone Colorado is about 85 miles West of Denver Colorado. It takes about 1.5 hours to drive to Keystone From the Denver International Airport. For someone who has never been to Keystone, it can be a confusing and tedious task of planning a Keystone, Colorado vacation for the whole family to meet everyone's needs. This guide is meant to be a primer on where to stay and what is available in the different areas of Keystone Resort Colorado. Keystone is not just a single area, but a ski resort that takes up an entire valley about 5 miles long. Situated within this long valley there are some defined neighborhoods within Keystone Colorado that each offer their own unique characteristics. These characteristics are what will ultimately make your vacation getaway to Keystone Colorado the best it can be.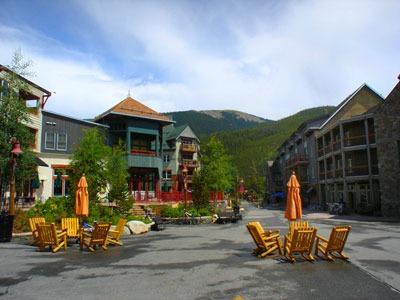 Keystone River Run Village in Keystone Colorado is the heart of it all. The small and quaint village area was built in the early to mid 1990's and serves as the central gathering point for skiers, shoppers and vacationers. The area is mostly condominiums with a first floor of retail space, housing fine restaurants, coffee shops, and outdoor clothing stores. The best part of River Run Village is the active atmosphere that keeps the village moving. Skiers love River Run because you can walk to the ski slopes at Keystone Resort within just a few minutes from anywhere in the village. Along they way, they can stop for a quick cup of coffee or tea to warm up for the day. Shoppers love River Run Village because of the plentiful opportunities to shop for ski gear, outdoor clothing, or gifts for family or friends. Families love River Run because of the kid-friendliness of the entire village. From play structures, to swimming pools, to mini golf, there is plenty of different thing to keep kids active and happy for days. At night during the ski season, River Run becomes alive with bands playing and bars and restaurants to enjoy an Apres' Ski singer and gather with close friends to talk about the day on the slopes. If you're looking for a vacation where you'll be close to everything, River Run Village is the place for you.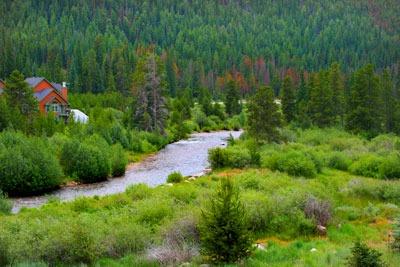 The Mountain House base area is not too far from River Run. In fact, it's a quick and easy half mile walk from River Run. However, the atmosphere is quite different. This original base area of Keystone Ski Resort is slightly older, built mostly in the late 1970's and features larger condominiums with amazing views, and walk-to-slopes convenience. The Mountain House base area is spacious and features a vast learning area and bunny hill for new skiers and riders. However, during the night the Mountain House base area winds down and comes to a close at an early hour. This area is for families perhaps with small kids who need to have the area quiet by 8pm. Close by, however, are plentiful restaurants and shops along US Hwy 6, so you still will be within just a few minutes walking distance to fine dining, and fun pubs in the evening.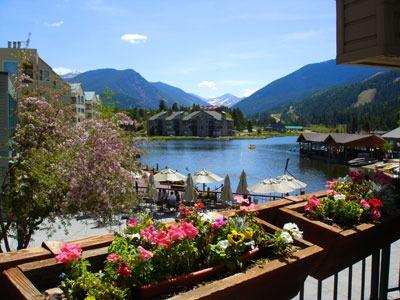 Keystone's Lakeside Village is one of the most unique areas in any ski resort area. While not home to any ski lifts as of yet, the Lakeside Village still holds its own with the abundant activities available any time of year. The Lakeside village is home to the Keystone Conference Center, which hosts hundreds of different conferences throughout the year and keeps the village bustling with people and fun. Keystone Lake, a 5 acre pond surrounded by restaurants, shops and condominiums, is central to the whole area. During the winter months, the entire lake is frozen and becomes North America's largest outdoor ice skating rink. Best of all, this lake is maintained by a Zamboni, which smoothes the ice to a shiny flat surface for easy skating. Winter activities such as hockey, figure skating, and more are happening all the time at the Keystone Lakeside Village. The summer months yield a beautiful blue Lake that is the foreground to breathtaking views of the Rocky Mountains and the Continental Divide to the East of Keystone Colorado. Huge planted boxes of Colorado wildflowers litter the area and it is truly a sight that comes right from the front of a postcard. Enjoy the summer days paddling a canoe, kayak, or paddle boat around the lake, or taking a stroll along the bike path that runs all the way through the valley. Access to skiing is easy with a constant stream of shuttles that run directly to the ski slopes. Not quite walk-to-slopes, but you'll actually walk much less by taking a shuttle.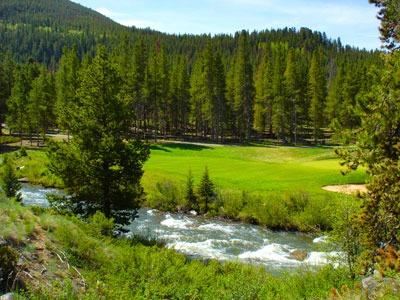 Further down the Keystone Valley to the West is the Ranch. The Keystone Ranch is home to 2 world-class golf courses. Within the golf course is a community featuring high-end single family homes with million dollar views of the green golf course in the foreground and snowcapped peaks in the background. As for the fun….it's up to nature back here nestled between the Keystone Valley and Swan Mountain. Plentiful hiking and biking trails are close by along with cross country ski trails and sledding during the winter months. Fine dining at the Keystone Ranch Restaurant is easily available. This is not a simple pub…this is world class food for sure!
Whether you're planning your first trip to Keystone Colorado, or you have been to Keystone many times, there is truly something for everyone in your group. Based on the activities for each neighborhood, choose what you want to do and the area will simply fit right into your vacation plan. Take the time to get to Keystone Colorado today….the trip is worth it and you'll have memories and stories for years to come.
Contact Us