Wow! This brought so much more to the party than I ever imagined! I hired Mike Rosenbaum with Sketchy Faces Caricature to come to our work party during our corporate retreat in Keystone, Colorado. Mike offers the traditional caricatures, but he also offers digital caricatures, which are perfect for large events like this one. When I contacted Mike, he was responsive, very nice and professional on the phone. He gave me a reasonable price for the four hours that he would draw for us. He also told me he could add our company logo to each caricature, which was the personalized touch I was looking for!
I would have never thought about hiring a caricature artist for a company event, but SummitCove Lodging, the company that booked our group lodging, recommended Mike with Sketchy Faces. Mike had drawn caricatures for one of their company parties. They said he was extraordinary and it was one of the greatest work parties they have ever had! SummitCove Lodging also provided us with outstanding accommodations and exceptional service while planning our company's lodging and during our stay! They had several condos to choose from and all our employees were within walking distance of each other which made it easy to meet up for meetings and events.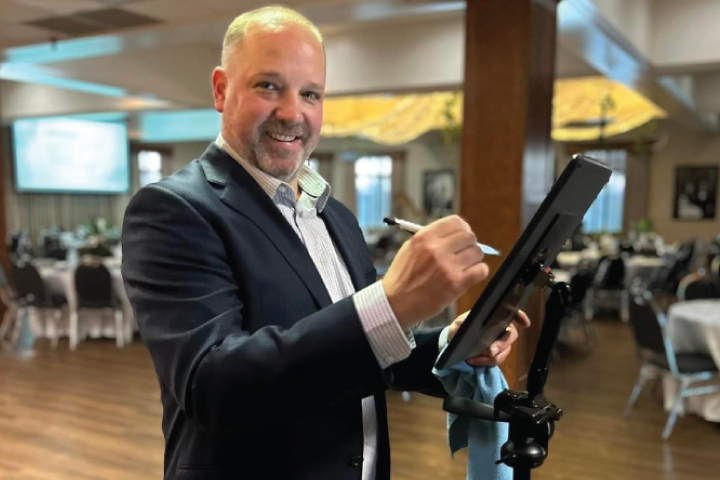 Mike came on our 'Family Night', and he was a hit! Everyone loved getting their caricatures drawn. Not only is Mike an amazing artist, but he is also friendly and easy to chat with. Everyone of all ages enjoyed sitting with Mike. He's a funny guy, and there was a lot of laughter! Each face Mike digitally drew took about seven-ten minutes, and that included our company logo and printing the drawing. The employees and their families loved showing each other their caricatures, and it was a conversation starter. It created a common platform for people to talk to people they have never talked to before but worked together for years! Everyone also walked away with a fun, company branded caricature memorializing the best company party we have ever had! We always survey our employees on their experiences during our work retreats and Family Night was by far everyone's favorite night, and it was because of Sketchy Faces and Mike!
Now we have returned to our offices, and when I walk through different departments there is something that is the same; most employees have their caricatures on their desks, next to the picture of their kids, by the things that make them happy! Mike sure made a lot of people happy at our work party, and to see that displayed throughout the office enhances the close-knit culture of our company. I highly recommend hiring Mike Rosenbaum with Sketchy Faces Caricature for a work event or for any event!
I realized that Sketchy Faces Caricature is the gift that just keeps giving, so I hired Mike to come draw at my wedding reception this summer. I can't imagine a better personalized guest gift than a caricature drawing from Mike. He is so creative that I can't wait to see how he incorporates our wedding into each drawing and gives all our guests a memorable experience as well as a personal token from our wedding to bring them happiness for years to come!