We take our family on a ski vacation every year, and our favorite resort is Keystone in Colorado. We are from Florida so even though we love to ski in snow, we do not love to drive in it. It is about a two hour drive from Denver International Airport to Keystone, and we have learned that you never know what the weather conditions will be like on the trek up to the mountains, so we always take a shuttle bus to and from the airport. This year we were fortunate enough to book our shuttle with Summit Express.
The booking process online was super easy, and we received a discount because we booked our lodging with SummitCove Lodging in Keystone. I also felt very confident in Summit Express. Flights can run late or be canceled, and I always worry about arriving late and the shuttle not being there. Summit Express assured me that they watch all their customers' flights so they would know if we were running late, and they have several shuttles running back and forth to the airport every day so if we are late there will be another shuttle coming.
Sure enough our flights were delayed three hours because of bad weather in Denver. We arrived much later than we scheduled our shuttle, and as promised, Summit Express was there. They also stayed in communication with me throughout the day so I didn't have to worry about it. I was worrying about the weather in Denver though and there was a big storm affecting the 1-70 corridor. I was relieved that I wasn't the person driving my family through the storm up to Keystone.
Our shuttle driver had several years of experience driving in winter storms, and she said we would just take it slow and everyone should enjoy the ride. My wife, her mother, my three teenage boys and I piled into a very nice and new shuttle van. We reserved a private shuttle because there were eight of us, and with a private shuttle Summit Express will stop at the grocery store so we could do our shopping for the week on our way to Keystone. The shopping Center we stopped at was great! My wife and mother-in-law went to the grocery store, the three boys went to get take out for everyone, and I went to the liquor store. It was a quick stop, but in thirty minutes we had everything we needed for our week vacation and full bellies for the stormy ride up to the mountains.
It took an extra hour to get to Keystone because of the storm. We were all exhausted from the day of travel and about an hour into the ride I looked around and everyone was napping. That's when it hit me that I can nap too because I wasn't driving, so none of us really noticed the extra hour on the drive because we slept through it!
When we arrived at Keystone our shuttle driver took us straight to our condo as it was a remote check in. She helped us unload all our luggage and skis into the condo and told us she would be back to pick us up next week. Our driver had wonderful customer service and kept us safe on the drive!
We were staying in River Run Village in River Run Townhomes 56. It is a beautiful townhome! It is also very convenient to stay in River Run Village, and there is free shuttle service to take us to other places in Keystone so we did not miss not having our own car. The storm we drove up in gave the mountains generous amounts of snow, and we had the most amazing skiing of our lives! The week went by quickly, and before we knew it was time to head home.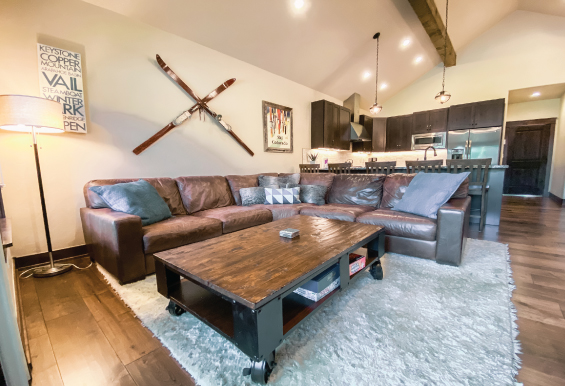 Summit Express called me the day before we were leaving and said since we were traveling back to the Denver Airport on a Sunday they wanted to pick us up two hours early so we wouldn't be late to the airport. At first I thought that was crazy, but after sitting in ski traffic heading back to Denver for an extra hour I realized that Summit Express knew what they were talking about.
Summit Express really goes out of their way to take care of their guests. From tracking flights to traffic trends they will be there for you and make sure you arrive on time. I highly recommend using them to get to and from the airport. They will be the only shuttle service I call when we come to Colorado!
Word to the wise, it is worth it to book an extra night on your arrival or departure if you are going up to the mountains on a Friday afternoon/evening or you are coming back to Denver on a Sunday afternoon/evening. The traffic on 1-70 on Friday afternoons and Sunday afternoons is horrible! It is much more enjoyable to arrive on a Thursday and leave on a Monday. It will save you hours of sitting in traffic. At least I wasn't the driver but on vacation, hours matter!