We had our family reunion in Keystone, Colorado this winter. It was a wonderful experience for everyone. A key factor in making this reunion so incredible was where we stayed. We rented two beautiful private homes that are across the street from each other, Goldenrod Home 6 and Goldenrod Home 7. Both homes have large windows with impressive views, private hot tubs, large kitchens, and room to spread out, but most importantly these homes felt like our own homes during our reunion! We were constantly going back and forth between the two homes.
We were able to soak up every minute we had together and also enjoy quiet moments in our own beautiful spaces.
These spectacular homes are located in the pristine Keystone Ranch neighborhood. They are minutes from the golf course for summer visitors, and are about five or six miles from Keystone Ski Resort, about ten miles from Arapahoe Basin Ski Resort, and very close to the Nordic Center for snow seekers like us. The road through the neighborhood is a bit winding. In the winter the roads are plowed, and if you have a four-wheel drive vehicle you will be just fine. The Keystone Ranch neighborhood is on the West side of Keystone so these homes are a little closer to Dillon then the properties on the East side of Keystone, which is convenient for running to the large grocery store, shopping at the Silverthorne Outlet Mall and eating at different restaurants. We were also close to the skiing which is the main reason we picked Keystone for our family reunion. It's a small enough town that everything is close. We would hop in our cars and be in River Run Village (where the gondola is located) in ten to fifteen minutes.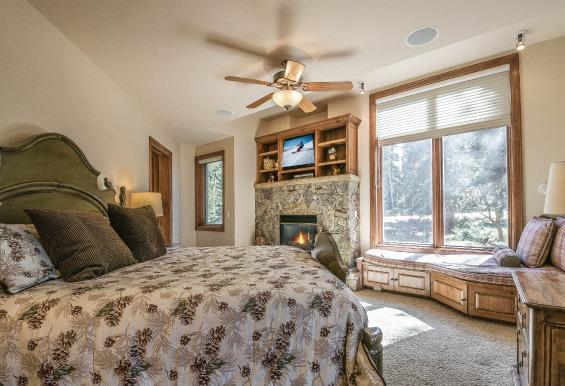 Not only is the location of the homes convenient, but the sleeping arrangements also worked well for us. My sister and I have grown children with spouses and a handful of beautiful grandkids. Goldenrod Home 6 sleeps thirteen people and Goldenrod Home 7 sleeps fifteen people. Both homes have several king and queen beds and a few bunk beds for kids. My family stayed in Goldenrod Home 6 and this home worked out perfectly for us. I have two son's, each with a lovely spouse, and one son has four amazing kids, while the other son is still thinking about it. My son and his spouse without kids could stay in the top master loft bedroom, which was spacious and gave them some privacy. My other son stayed in the guest bedroom on the main floor with his spouse and was a floor above his children. My husband and I stayed in the master bedroom on the main floor, and it was gorgeous! We had a dual sided fireplace, and you could watch the fire from the comfy king bed or from the jetted tub! After a day of skiing with the kids and grandkids I soaked in the jetted tub with a glass of wine; the fireplace was glowing, and I was surrounded by pine trees outside the huge windows. Pure bliss! As much as I love my family, having a few moments of peace to myself during our vacation was wonderful and revitalizing! The grandchildren all slept in the bedrooms in the lower level. It worked beautifully because my oldest granddaughter had a bathroom and bedroom all to herself. She kept saying to me, "Gigi, I am so happy I don't have to share a bedroom with my three little brothers! This is the best vacation ever!" She could also have her girl cousins come over from Goldenrod Home 7 for sleepovers! The most enjoyable part of the house for the grandkids was that the downstairs living room had a kitchenette with a mini fridge and a microwave. There were a few times I started to miss the grandchildren because they were happily hibernating together in front of the fireplace, eating microwave popcorn, while watching movies on the big screen, grabbing drinks out of their mini fridge. Now, they are all asking for mini fridges in their rooms when they return home! They even had their own cereal and milk down there so I joined them for breakfast a few times. I marveled at the cohesive living arrangements they had made amongst themselves and their cousins. It was a wonderful space for them to make memories together.
It is funny that I would eat a few breakfasts with the grandkids on the lower level when I had a gorgeous kitchen on the main level. I was able to prepare several meals for my family in the well stocked kitchen, and we also used the grill a few times. Goldenrod Home 6 has huge windows with incredible views so even when I was cooking I could enjoy the beauty of the home and its surroundings. I also liked the open floor plan; I never felt stuck in the kitchen. The table seats ten and there is more seating at the bar. My sister and I both wanted vacation homes with large tables. When we grew up and when we raised our own children we ate dinner at the table together almost every night. Delicious food and time together around the kitchen table has tightly bonded our family, and it was important for us to continue this tradition while on vacation. Each home was big enough that we could host each other for different meals.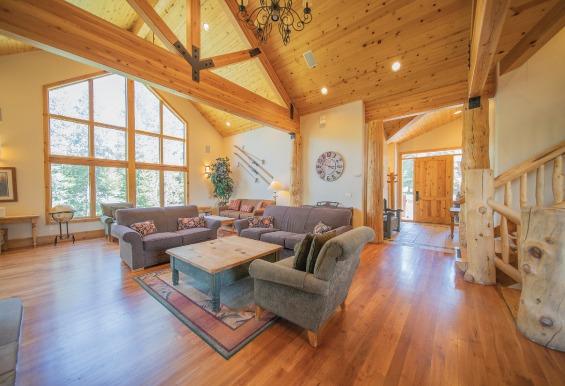 We also spent quality time in the living room which has floor to ceiling windows with natural light pouring into the room with a dreamy view of snow tipped pine trees that deer and rabbits like to meander through. Comfy couches and chairs surround the fireplace where we played several games of Sorry, Uno and Charades. There was an additional couch and chair in the corner to cuddle up with a good book or just to stare out the window, which was what my grandson was doing when he suddenly exclaimed, "Look outside everyone! There are doves with furry feet!" We ran to the window and laughed! His "doves" were two cute ptarmigans. It was a type of bird my grandkids had never seen before and was a highlight of our vacation!
My sister stayed in Goldenrod Home 7 because she has a few more grandkids. Her daughter has three pre-teen daughters and her son has two younger boys. The lower level was great for her grandkids and her son and his wife. The three teenage girls slept in the bunk room and the two younger boys slept in a queen bed with their parents nearby in the third bedroom. The lower level also had a living room with a fireplace, Wii and a large TV. There is also a wet bar with a microwave and mini fridge just like in Goldenrod Home 6. The grandkids would take turns having movie nights at each other's vacation homes. One night all the grandsons slept in #7 and all the granddaughters slept in #6. The options were endless and the kids were happy the entire time!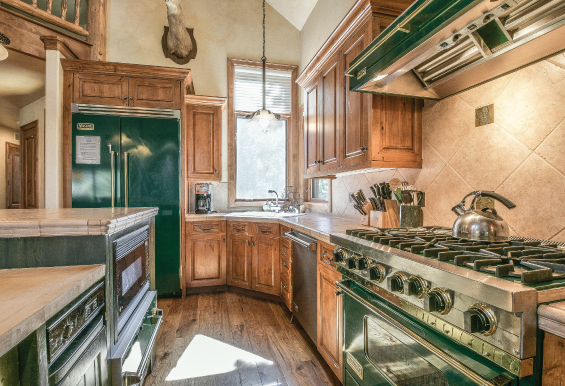 Additional highlights of both homes are the private hot tubs and spacious yards. We all enjoyed soaking in the outdoor hot tubs (each home has one hot tub). Our crazy kids and grandkids created the "Hot Tub Challenge." The challenge was, who could run through the snow from one hot tub to the other! It was our version of the Polar Bear Plunge! We also spent a lot of time in the yard building snowmen and having snowball fights between the two yards. We took walks through the quiet neighborhood and enjoyed the views surrounding us. There is nothing more beautiful than snowy mountains against a bluebird Colorado sky! However, I have not been here in the summer, and I can imagine the beauty is just as immense so we decided to come back and see for ourselves what a Keystone summer is like! Our families loved both these homes so much that we can't wait to return! I can already see us hanging out in the sunshine on the decks, playing yard games and making more memories. We will have to come up with a summer version of the "Hot Tub Challenge"!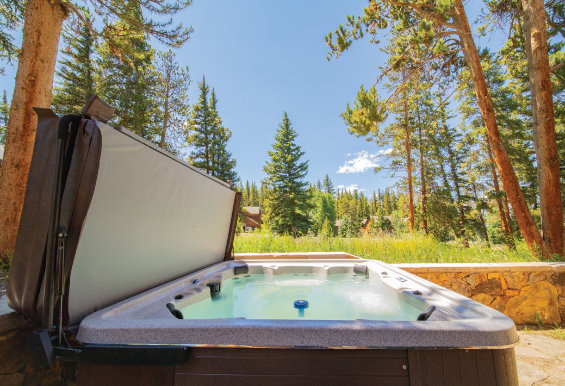 I am sure it is obvious that I highly recommend both of these luxury homes for large families or groups. We rented the homes from SummitCove Vacation Lodging, and they were wonderful to work with. They gave us a discount for renting both homes in the winter and when we rented them again for the summer they gave my sister and me a return guest discount. We are counting down the days until we come back to the Goldenrod Homes!