I saw the mudslides in Colorado on the news and that they were causing major highways to close. We had a family reunion planned in Keystone in a few weeks and most of us were flying in from different states. I began to feel nervous about everyone driving up to the mountains. I called our lodging company, SummitCove and asked them if there was a shuttle service from the airport in Denver to Keystone. They recommended Summit Express Shuttle Service and told me they also will give me special pricing as a guest of SummitCove Lodging.
I looked on Summit Express' website and saw they had individual/group and private shuttles. The Private shuttle vans can seat up to fourteen passengers. Several of us were flying in within a few hours of each other, and the private shuttle was the way to go. The other family members who were flying in at different times could take an individual seat on a group shuttle. The prices were much cheaper than all of us renting cars for each of our families and it took some of the worry away from driving in the mountains with mud slides.
Luckily, we all arrived on time to the Denver airport and met our shuttle drivers. We had two private shuttles. The vans were like new and had a lot of head room and luggage space. Everyone could stretch out and relax. Our shuttle driver informed us that the highway was open to Keystone but closed further west in Glenwood Canyon because of a mudslide, so we should have smooth sailing.
Our drivers were excellent! They stopped at a shopping center, outside of Denver, with a liquor store, grocery store and fast food restaurants. We were able to get some food which made the ride much more enjoyable since no one was "hangry". We were also able to get some essentials to bring to the condo with us which was important since we didn't have a car once we were in Keystone.
When we arrived in Keystone our Summit Express drivers took us to SummitCove Lodging to get our check in packets and then they took us to the Springs condos in River Run Village. We stayed in Springs 8910, on the top floor with amazing views! Our drivers unloaded all our luggage and brought it up to our condos. I could not believe the amazing service! I knew they would get us to Keystone safely, but we didn't expect the drivers to take all our luggage up to our condos. It was truly world class service!
Staying in River Run Village was so convenient that we never missed not having our own cars. We were able to get anything we needed or ran out of in the Village. Keystone also has a free shuttle service so we were able to take that to Lakeside Village where we all paddled boarded on the small lake there.
At the end of our beautiful family reunion we were picked up at our condos by Summit Express. When we were leaving Keystone we saw a moose on the side of the road. Again, I was so glad I was not driving because I could pull out my phone and take a picture, safely from the shuttle van.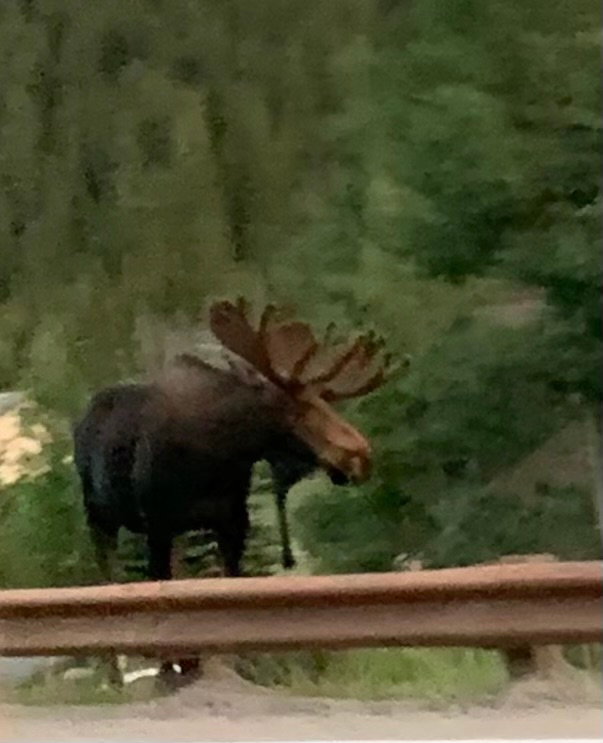 Summit Express watched our flight times and the traffic to make sure we arrived at the airport with plenty of time to spare. The shuttle really made our trip easy and relaxing. It took a lot of worrying away and simplified everything. I will use Summit Express everytime we come to Keystone!